Go, get yourself a smile
Boyfriend talks to me as if I was a slave.
He says: Eat. He says: Love your chain.
Boyfriend says: Do not see yourself as a prisoner in my house.
Boyfriend offers me money,
he tells me to go buy a smile.
---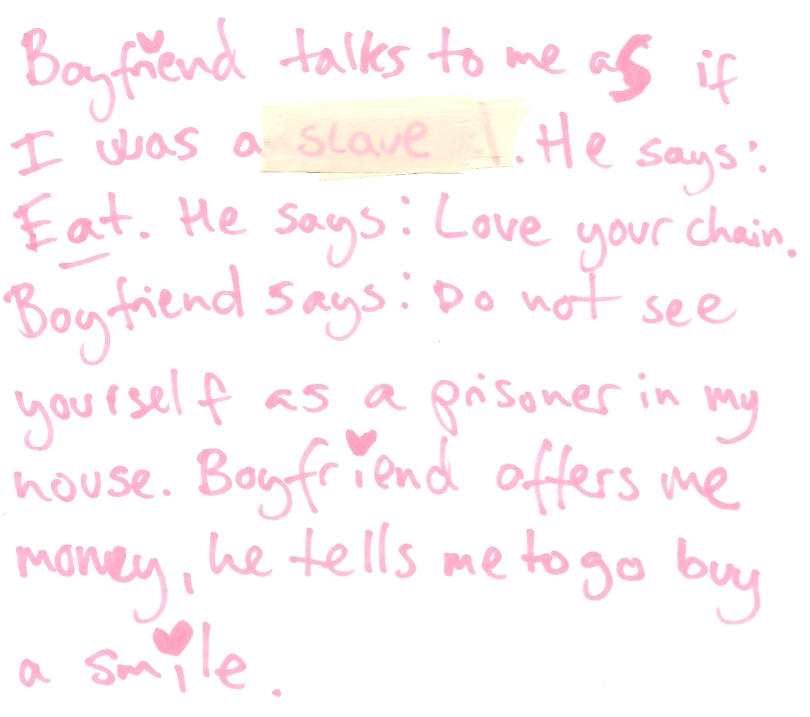 Allez, va te chercher un sourire
Boyfriend me parle comme à une esclave.
Il dit : mange. Il dit : adore tes chaines.
Boyfriend dit : ne te prends pas pour une prisonnière dans ma maison.
Boyfriend me donne de l'argent,
il me dit d'aller acheter un sourire.
Traduction : Christine Berlioz & Laila Flink Thullesen
Ga jij maar een glimlach kopen
Boyfriend praat tegen me alsof ik een slaaf ben.
Hij zegt: Eet. Hij zegt: hou van je ketting.
Boyfriend zegt: zie jezelf niet als een gevangene in mijn huis.
Boyfriend biedt me geld aan,
hij zegt, ga jij maar een glimlach kopen.
Vertaling: Henk van der Liet